Again, I am thinking, I really should not be so hard on my children for their "lack of focus." Here, I am pottering around in the garden some 45 minutes later when I should be inside the house cleaning!! In all fairness ( sounds familiar?) I was taking out a potted plant that was looking a little under the weather from neglect (again- sound familiar?). I cleaned off dead dried leaves and gave it a good soak. Then, I remembered the Plumeria branch that had broken off and had been thrown out by my landscaper. I happened to pass by the yard waste bin on my curbside before the city pickup and rescued it. I set aside to be planted. I planted it today!!
Then, I remembered the Calla Lily bulbs that I was sent .....Pop the 3 bulbs into 3 pots.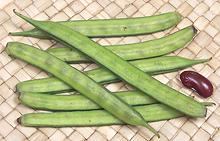 Then, I came across some seed pods of indian cluster beans ( I left out to dry)... then... then.... Needless to say, they all needed planting and cleaning was on hold. I bought them at an Indian grocery store. They have a slight bitter edge to them that I like.
Cluster Beans (Cyamopsis tetragonoloba) originated in India and is now cultivated in California. It is used to make Guar gum, a thickening powder, said to have 7 times thickening power of corn starch. The beans are ground up to make the guar gum powder.
Guess what I am doing now, blogging about lack of focus instead of cleaning. It is okay, I am allowing myself 20 minutes coffee, blogging break and then it is back to cleaning. FOCUS!!!!